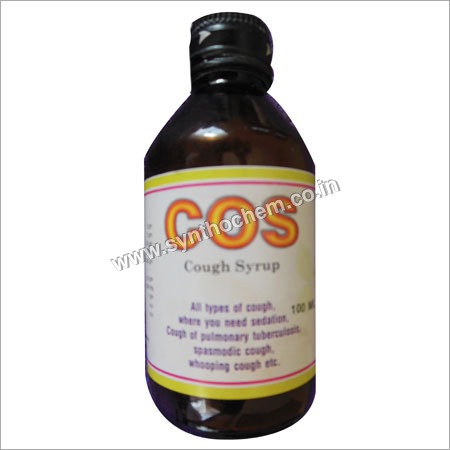 Cough Syrup
Product Code : COS
Product Description
Cough Syrup LOZENGES/DROPS

We, Synthochem, are a certified manufacturer and supplier of best-effective range of Cough Syrup. These syrups are formulated using optimum quality ingredients and sophisticated technology in accordance with the medical standards. Owing to characteristics like zero side effect, purity and accurate composition, our Cough Syrup is ideal for the treatment of upper respiratory tract. We also offer these syrups in a hygienic packaging to intact their effectiveness.
Composition

Syrup Each 15 ml contains extract of

Cinnamonum iners (Tejpat): 2 gm

T. Belerica (Bahera): 2gm

Taxus Baccata (Talishpatra): 0.5 gm

Alpinia Galanga ( Kulanjan): 0.5 gm

Khurasani Ajwayan: 0.5

D. Alba (Dhustur): 200 mg

Solanum Jacquini (Kantkari): 1 gm

Menthol: q.s.

Sugar base: q.s
Lozenges/ Drops
Each drop contains
A. Catechu (Khadir Twak): 2gm

C. Iners (Tejpat): 2gm

T. Belerica (Behera): 2gm

A. Galanga (Kulanjan): 5gm

S. Xanthocarpum (Ajwayan): 0.5 gm

H. Alba (Dhustur): 200 mg

G. Glabra (Madhuyeshthi): 1.5 gm

Eucalyptus Oil: 0.01 ml

Peppermint: 0.01 ml

Sugar: 0.5 gm
Pharmacology
COS contains soothing and cough sedative ingredients which provide immediate relief, COS is a good decongestant which exerts predictable results.
Indications
Sore throat, laryngopharyngitis, cough, coryza, bronchitis, cough, coryza, bronchitis, cough of pulmonary tuberculosis.
Dosage and Administration
Syrup - Best way of administration is to give 10-20 ml of COS in 40 ml boiling water and sipped like tea for three or four times a day.
Lozenges or Drops - These are very tasteful minty drops for the purpose of chewing slowly to get immediate soothing effect for inflammed mucous membrane of the throat. Take as frequently as you require.
Presentation

Syrup - 100ml and 200ml bottles

Drops: Pouch of 18 drops and Jar of 100 drops

Contact Us
7-B, Shahjahanpur Road, Bareilly, Uttar Pradesh, 243005, India
Phone :91-581-2523827