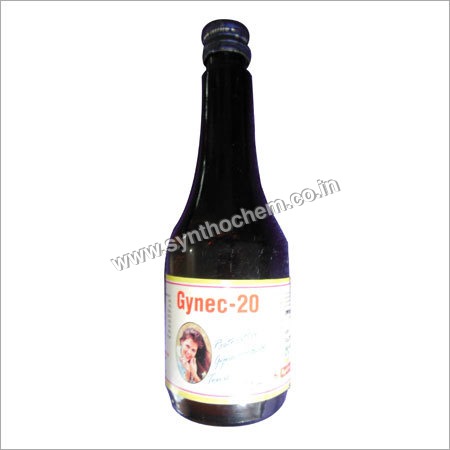 Gynaecological Disorder Syrup
Product Code : Gynec-20
Product Description
Gynec-20 Gynaecological Tonic

With an experience of more than four decades, we are catering to the wide requirements of our clients by providing a wide array of Gynaecological Disorder Syrup. These syrups are widely used for the treatment of gynecological disorders owing to attributes like freshness, accurate composition and zero side effect. Formulated at our modern technology based infrastructure using quality ingredients and herbs, our Gynaecological Disorder Syrup is also available in a hygienic packaging. We also offer these syrups at nominal price.

Description

Palatable tonic for gynaecological disorder

Composition

Each 5 ml contains
Ext. Ashoka: 20
Ext. S. Racemosa (Lodhra): 10%
Ext. A Racemosus (Shatabari): 12.5 %
Ext. W. Sommifera ( Ashwagandha): 12.5%
Ext. Accacia Catechu (Khadir): 10%
Ext. Areca Catechu (Supari): 10%
Ext. Velerian (Tagar): 25%
Palatable Syrupy base: 4.5 gm
Pharmacology
Extracts of Ashoka, Lodh and Velerian are uterine sedative which control hypermotility of the uterus. Ashwagandha, Shatabari are tonics and emanogaugue and Supari with Khadir are powerful astringents which stop unwanted secretions from genital organs.

Indications
Polymenorrhoea, hypermenorrhoea, metropathia haemorrhagia, leucorrhoea, salpingo - oophoritis, cervicitis, infertility, ammenorrhoea, general rundown conditions, habitual abortion and sexual neurasthaenia.
Dosage and Administration
Two tea spoonful twice daily
Presentation: 100 and 200 ml bottles.


Contact Us
7-B, Shahjahanpur Road, Bareilly, Uttar Pradesh, 243005, India
Phone :91-581-2523827