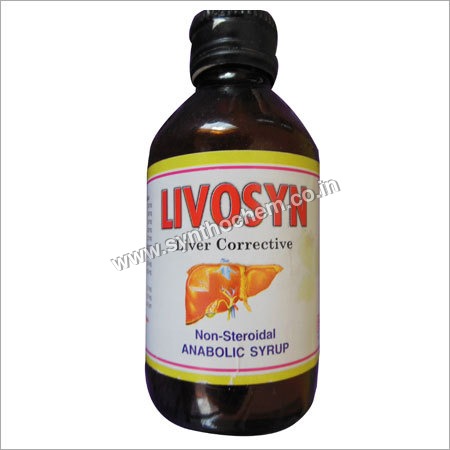 Liver Tonic
Product Code : Livosyn
Product Description
Livosyn Syrup
We are among the foremost manufacturers and suppliers of superior quality Liver Tonic. Known for purity, accurate compositions and effectiveness, these syrups are used for the treatment of leucorrhoea. We make sure Liver Tonic is only formulated using optimum grade herbs and natural ingredients, which are procured from reliable vendors. Be it in domestic market or overseas, our syrups are cherished and admired by clients over the global platform.
Composition

Each 5 ml contains

P. Rosea (Chitrak): 30mg
Sarjikakshar: 30mg
E. Officinalis (Amla): 25mg
Gentian (Kalikutaki): 30mg
Lime: 20mg
Papadakhar: 260mg
Terminalia Chebula (Haritaki): 25mg
Ginger: 30mg
Piper Nigrum (Marich): 30mg
Mandur Bhasm (Iron): 10mg
Pharmacology
Livosyn detoxicates liver and regenerates damaged or dead cells. It has got gentle diuretic effect which is very important factor in the treatment of ascites, jaundice and general oedema due to malfunction of liver.
Indications
Jaundice, hepatomegaly, cirrhosis, ascites, habitual constipation, anaemia due to malfunction of the liver, retarded growth of the children. Livosyn is an excellent non - steroidal safe anabolic syrup for infants and children. Regular use of Livosyn increases appetite.
Dosage:
Adults: 10 ml twice a day
Children: 1/2 to 1 tea spoonful twice a day.

Presentation: 100 and 200 bottle

Contact Us
7-B, Shahjahanpur Road, Bareilly, Uttar Pradesh, 243005, India
Phone :91-581-2523827