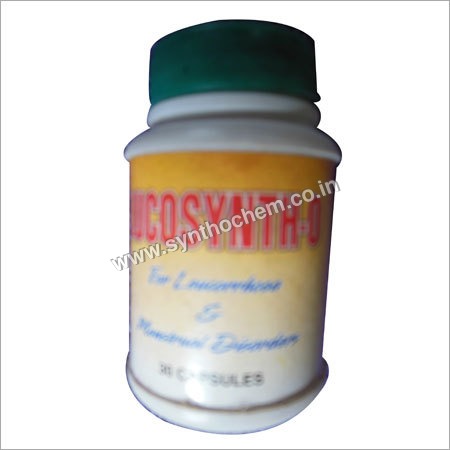 Locosynth-O Capsule
Product Code : Locosynth
Product Description
Locosynth-O Capsule
Ever since our company got incepted, we are instrumental in offering an unmatched assortment of Locosynth-O Capsule to our esteemed clients. These capsules are formulated using natural ingredients in accordance of scientific lines and under the experts' guidelines. Owing to characteristics like safe usage, prompt effects and zero side effects, our Locosynth-O Capsule used for the treatment of leucorrhoea and gynaecological disorders. Furthermore, we also offer these capsules at a reasonable price.
Description
Oral capsule for the treatment of leucorrhoea and other gynaecological disorders.

Composition
Each capsule contains
Acacia Catechu (Khadirsar): 10.5%
Quercus Infectoria ( Majuphal): 30%
Alum purified: 10%
Ext. Ashoka: 15%
Pulv. S. Racemosa (Lodhra): 15%
Ferrous Bhasm (Loh): 5%
Copper Bhasm: 4%
Ext. Velerian: (Tagar): 10.5%
Pharmacology
Lucosynth - O tones up genital system and releases its astringents through blood stream which provide selective action at the site of lesion.
Indications
Leucorrhoea, menstrual discorders such as ammenorrhoea, polymenorrhoea, metropathia haemorrhagica hypermenorrhoea, cervicitis, vaginitis and other pelvic inflammations.
Dosage & Mode of Administration
One capsule twice a day preferably with sweetened lukewarm milk.
Presentation: Jar of 45 capsules.


Contact Us
7-B, Shahjahanpur Road, Bareilly, Uttar Pradesh, 243005, India
Phone :91-581-2523827