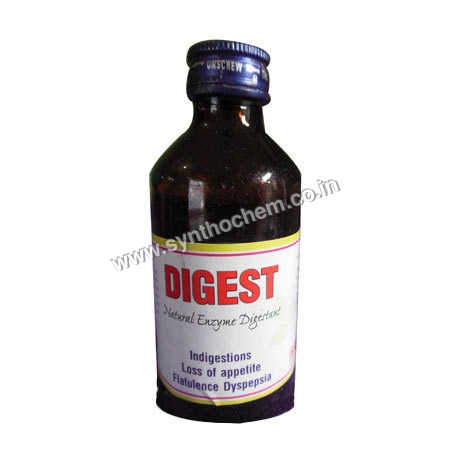 Natural Enzyme Syrup
Product Code : DIGEST
Product Description
Natural Enzyme Digestant

Syrup

Owing to our sound knowledge in the medical sector, we manufacture and offer a wide gamut of Natural Enzyme Syrup. These syrups are formulated in hygienic environment using optimum grade herbs and natural ingredients. Our Digestive Enzyme Syrup highly effective in dry, productive and whooping cough problems at the mean time contains lipolytic and proteolytic natural enzymes to improve appetite. Safe to consume, accurate composition and purity are some of the attributes of our syrup.

Description
Digest is a very palatable digestant cum appetiser syrup containing lipolytic and proteolytic natural enzymes.

Composition

Each 10 ml contains
Ext. Papita (raw papain): 250 mg
Ext. Chitrak (P.Rosea): 500 mg
Ext. Trikatu (Tri - Bitters): 500 mg
Sucrose: 9 gm
Sodium Benzoate: 5 mg
Amaranth color: q.s.
Pharmacological Action
Chitrack and Tribitters are well known appetisers and digestants whereas aqua ptycotis is a good carminative and papain a reputable digestive enzyme. So, Digest not only digests food but also increases appetite simultaneously.

Indications
Loss of appetite, indigestion, flatulence dyspepsia, abdominal discomfort and allied disorders. Helps in metabolism after taking rich carbohydrate, protein or fat containing diet.

Dosage and Administration
As digestant: 2 tea spoonful twice daily after meals

As appetiser: 2 tea spoonful twice daily before 1/2 hr or meals.
Presentation: 100 ml and 200 ml bottle



Contact Us
7-B, Shahjahanpur Road, Bareilly, Uttar Pradesh, 243005, India
Phone :91-581-2523827