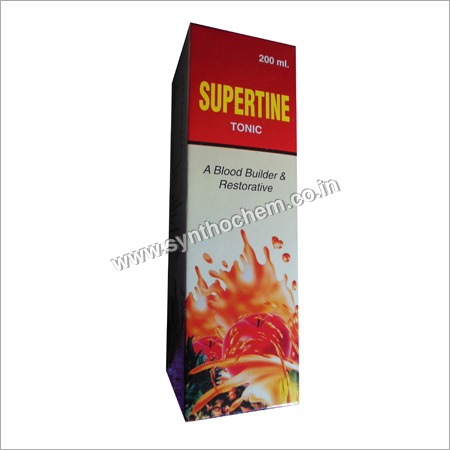 Supertine Blood Purifier Tonic
Product Code : Supertine
Product Description
Blood Purifier Tonic

We are an eminent enterprise in the medical sector providing our clients a highly effective Blood Purifier Tonic. These tonics help in the purification of blood and help to increase immunity, vitality and strength. Perfect for both child and adult, our Supertine Blood Purifier Tonic is best known for purity, zero side effect and accurate composition. Furthermore, our clients can avail these tonics in a hygienic packaging to intact the entire quality attributes of the medicines.
Description
Supertine is health tonic

Compositions
Each 10 ml contains

Moosali white: 10%
Moosali black: 10%
Asgandh: 10%
Chitrak: 1%
Mandukparni: 10%
Brahmi: 5%
Sonth: 5%
Pippali: 5%
Shatawari: 18%
Guduchi: 7%
Bhringraj: 12%
Kasis: 1%
Sodium Benzoate (Preservative): 2%
Amaranth Red Colour: q.s.
Syrup base: q.s.
Indications
Geriatrics, general weakness, impotency, after long illness, anemia, male and female frigidity, azoospermia.
Dosage and Administration
Adult: 2 table spoonful thrice a day
Children:1 tea spoonful thrice a day
Presentation: 100 and 200 mm bottle

Contact Us
7-B, Shahjahanpur Road, Bareilly, Uttar Pradesh, 243005, India
Phone :91-581-2523827